Sustainability


When it comes to construction of any kind, environmental concerns are more important than ever. Which is why Bélanger Laminates is committed to providing sustainable products and using environmentally-friendly manufacturing methods.
Our production facilities located in Canada work hard to keep emissions and waste to a minimum, conserve natural resources, and protect local ecosystems. These strategically located facilities allow Bélanger Laminates to provide the shortest lead times available, but more importantly reduce harmful vehicle emissions that contribute to air pollution and ozone depletion.
Every countertop we offer is GREENGUARD indoor air Quality certified®. Bélanger Laminates is the first and only laminate countertop manufacturer to receive this low-emitting certification, ensuring our product will contribute to healthy indoor air and the wellness of the building's occupants.
With EQcountertops, Bélanger Laminates takes the sustainability of our countertops to the next level. Manufactured using 100% pre-consumer recycled particleboard, water-based adhesives and greenguard certified laminate, EQcountertops meet multiple green building standards, including Leadership in Energy and Environmental Design (LEED®) and NAHB's green building guidelines.
Best of all, we're continually adapting our manufacturing techniques and providing innovative products to ensure environmental responsibility. All employees – from production to accounting – are involved and encouraged to find innovative ways to make our business efficient and effective.


Naturally beautiful. Environmentally-friendly
Naturally beautiful. Environmentally-friendly. And available at a price that won't break your project's budget. With EQcountertops by Bélanger Laminates, you can count on getting all of this and more. While all of our countertops are GREENGUARD indoor air Quality Certified®, EQcountertops are the first and only GREENGUARD Children & Schools Certified laminate countertops available, meeting the most stringent emission standards.
EQcountertops assist in achieving Leadership in Energy and Environmental Design (LEED®) certification. So, for both your commercial and residential projects, you can keep the earth green by choosing the environmentally- friendly features of EQcountertops:
100% pre-consumer recycled SkyBlend cores
Low-emitting GREENGUARD Certified laminates
Low-emitting, water-based adhesive
FSC® certified
A recycled wood fibre, FSC® certified core
EQcountertops cores are made of FSC certified, 100% pre-consumer recycled particleboard, with no added urea formaldehyde, including SkyBlend cores. SkyBlend cores are tinted blue for easy identification in the field. And, by using our sustainable particleboard, you lose nothing in durability.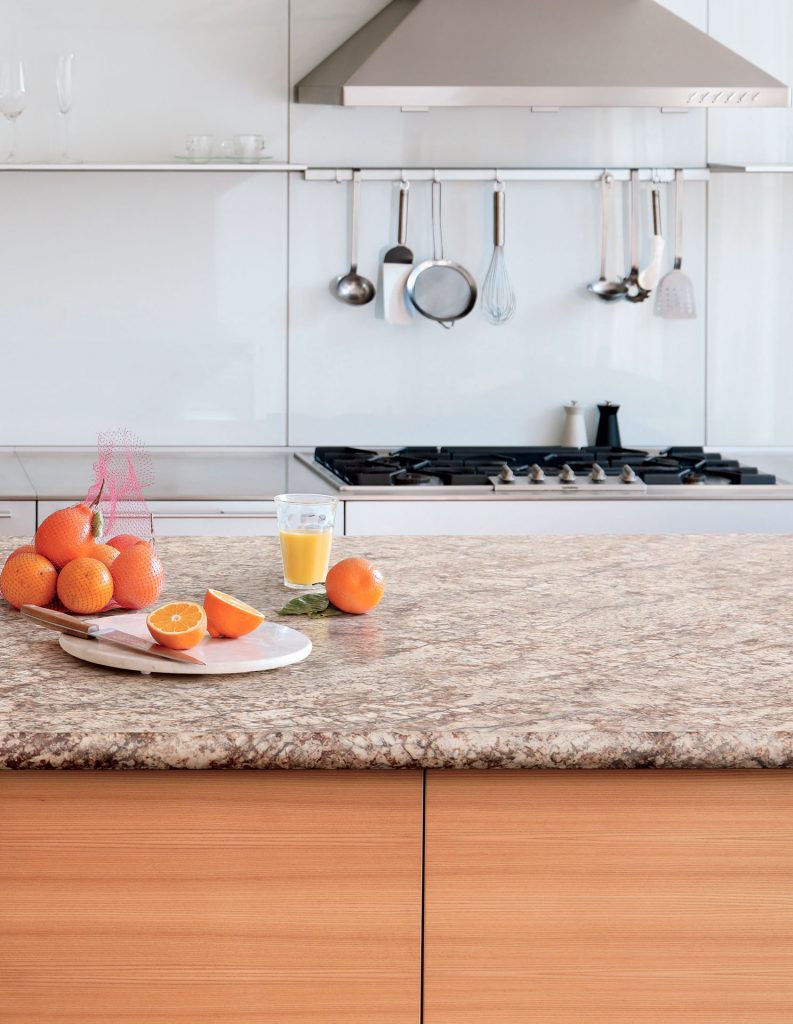 GREENGUARD certified Laminates
The laminate surface of EQcountertops not only provides a durable, high-quality countertop surface, it's greenguard certified as well, which means significantly diminished harmful emissions. We proudly use certified GREENGUARD laminates from all the major brands – Formica®, Arborite®, and Wilsonart®.
A safe, superior adhesive
EQcountertops use water-based adhesives to bond the laminate to the particleboard. These adhesives eliminate unsafe volatile organic compounds (vocs), which helps improve indoor air quality.
Bélanger Laminates strives to keep the earth green
The LEED® Green Building Rating System is a points-based national standard for developing high-performance, sustainable buildings. At Bélanger Laminates, we're committed to developing material options concurrent with LEED certification criteria, to help assist you with both your commercial and residential project needs.